Long Island Invisalign Service
The clear alternative to braces!

Invisalign uses a series of clear aligners that are custom molded to fit you. The virtually invisible aligners gradually reposition your teeth into a smile you'll be proud of.
Remove your aligners to eat, brush and floss
Change aligners every two weeks
Your teeth move little by little
Regular progress checks with Dr. Paternina
Results often in 6 months to 1 year

Why people prefer Invisalign
The convenience and ease of use of the Invisalign system have made it the choice of over half a million people. In fact, Invisalign has been effective in giving hundreds of thousands of people amazing new smiles.
Most people won't notice you're in treatment
Won't disrupt your lifestyle
Free initial consultation with participating doctors
No metal wires or bands to irritate your mouth, and best of all, most people won't notice you're in treatment.
Made to fit lifestyles like yours
Now nothing comes between your lifestyle and having an incredible smile. Because Invisalign offers you comfort, convenience and virtual invisibility during treatment. With Invisalign, you can:
Be as active as you like because Invisalign won't hold you back
Remove your aligners for special events, eating and brushing
Look your best during treatment & feel more confident everywhere you go Invisalign is clear and practically invisible, so nothing gets in the way of your new smile. No wonder Invisalign is the choice of over half a million people.
Unobtrusive in business meetings or social gatherings
No metal wires or bands to irritate your mouth
Many people won't notice you're wearing aligners
Once you decide to improve your smile, the rest is easy.
Getting started couldn't be simpler. The path to your amazing Invisalign® smile begins here.
Step 1: Come to see Dr. Paternina, a certified Invisalign provider.
Dr. Paternina, a certified Invisalign provider, will give you an overview of how Invisalign works, evaluate your situation, and answer your questions. At Paternina Dental Center we offer an initial free Invisalign consultation, so be sure to ask for yours.
Step 2: Map out a treatment plan.
You and Dr. Paternina will develop a treatment plan specifically for you. Then the doctor takes bite impressions of your teeth, which Invisilign will use to custom mold a series of clear, removable aligners that will gradually move your teeth into an incredible new smile.
Step 3: Your aligners are created.
The advancements in technology that led to clear aligners were developed by Invisalign. Your aligners are created via precision computer mapping and design, then are shipped to your doctor.
Step 4: Wear your aligners.
You'll receive your aligner series, switching to a new aligner every two weeks as your teeth move. Just wear each set of aligners night and day for a two week period, removing them only to eat, brush and floss.
Visit Dr. Paternina on a regular basis for progress checks. Each case is a little different, but on average, treatment lasts about a year. Then you can show the real you with an amazing new smile!
Dr. Paternina, a certified Invisalign provider, is conveniently located in Nassau, Long Island and has been providing orthodontics, cosmetic and implant dentistry services to Long Island residents of New Hyde Park, Westbury, Garden City, Manhasset, Hicksville, Jericho, Roslyn, Floral Park, Syosset, Williston Park, Levittown, and the surrounding areas since 1999. To schedule your appointment, call today at (516) 742-5100 or contact us with any questions you may have.
New Patient Special:
Dr. Marc E. Paternina would like to welcome you to the Paternina Dental Center! Save 15% on all tooth whitening services.
Did you know?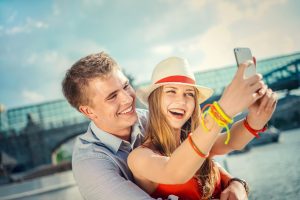 With Snap-On Dentures, you don't have to worry about your denture moving around or falling out at the wrong time, hassling with adhesives and glues!
---
Paternina Dental Center provides Cosmetic Dental and Orthodontic Services in the following areas of Queens and Long Island: Whitestone, Little Neck, Great Neck, Fresh Meadows, Douglaston, Bayside, Floral Park, New Hyde Park, Manhasset Hills, North Hills, Manhasset, Mineola, Garden City, Stewart Manor, Franklyn Square, Carle Place, Westbury, Roslyn, Jericho, Hicksville, Port Washington and surrounding areas.