Treatment of Edentulism with Hybrid Dentures
Hybrid Dentures are permanently attached to your jaw bone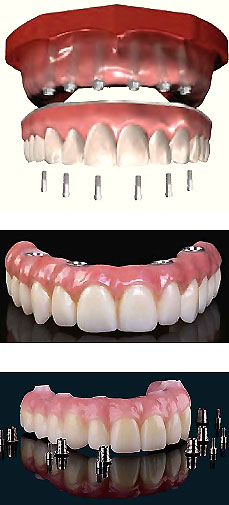 Hybrid dentures are a cross between a regular denture and a fixed bridge. When there is a lot of bone loss in your jaws and you would like to have a prosthesis that is fixed and not removable a Hybrid Denture is the best solution. I you have extensive gum and bone loss a regular porcelain bridge that doesn't replace any of the gum tissue would give the teeth the appearance of being way too large for your mouth. A Hybrid Denture solves this problem by replacing the lost bone and the lost gum tissue with pink acrylic or pink ceramics between the teeth to allow the teeth to be of normal size and naturally looking.
Hybrid Dentures, are also called: Hybridge Dentures,  Hybrid Bridge, Fixed Removable Dentures,  Hybrid Implant Dentures,  Fixed Dentures, All on Four,  All on Six, All on Eight,  Immediate Hybrid Dentures, Pretteau Bridge, Fixed hybrid, Screw-Retained Hybrid Restorations, Screw-Retained Hybrid Bridge, Fixed-Detachable Dentures, Fixed-Detachable Bridges, Fixed Hybrid Implant Bridge, among other terms.
To design a Hybrid Denture, four, six, eight or ten dental implants are placed in the jaw bone depending on the amount and quality of the remaining tissue then the Hybrid Denture is screwed onto the implants.  The result is a new set of teeth that are cosmetically placing, strongly attached to your jaw bones that restore the use and enjoyment of real teeth.
Hybrid Dentures are permanently attached to your jaw bone and can only by remove by your dentist every 4 or 6 months for cleaning and maintenance. Hybrid dentures are made at Paternina Dental Center of modern ceramics materials that are very strong and look beautifully natural. Ceramics are non-porous so food debris is not sucked in to the dentures affording you a fresh healthy breath every time.
Dr. Paternina has been restoring edentulous patient with Hybrid Dentures for over two decades and have successfully delivered hundreds of Hybrid Dentures to extremely satisfied patients.  Dr. Paternina is a well trained and experienced dentist in the treatment of edentulism with Hybrid Dentures. Dr. Paternina performed both the implant surgical procedures and the prosthetic denture procedure so you will see only one Doctor during the entire process.
Providing Hybrid Dentures on Long Island since 1999 through our Central Nassau County location in New Hyde Park, we are a short ride from Mineola, Westbury, Garden City, Manhasset, Hicksville, Jericho, Roslyn, Floral Park, Syosset, Williston Park, and Levittown. Combine that with our unsurpassed expertise in providing Hybrid Dentures option to treat edentulism a better quality of life is little more than a phone call away. To schedule an appointment, call today at (516) 742-5100 or contact us with any questions you may have
New Patient Special:
Dr. Marc E. Paternina would like to welcome you to the Paternina Dental Center! Save 15% on all tooth whitening services.
Did you know?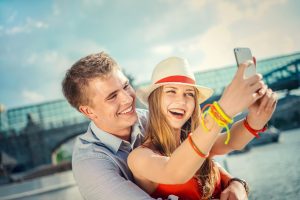 With Snap-On Dentures, you don't have to worry about your denture moving around or falling out at the wrong time, hassling with adhesives and glues!
---
Paternina Dental Center provides Cosmetic Dental and Orthodontic Services in the following areas of Queens and Long Island: Whitestone, Little Neck, Great Neck, Fresh Meadows, Douglaston, Bayside, Floral Park, New Hyde Park, Manhasset Hills, North Hills, Manhasset, Mineola, Garden City, Stewart Manor, Franklyn Square, Carle Place, Westbury, Roslyn, Jericho, Hicksville, Port Washington and surrounding areas.